Prostatitis, prostate enlargement and, of course, prostate cancer, are the three most common problems that this important gland in the male reproductive system can cause, especially over the years. Do you know the prostate massage and its possible positive effects to keep it in an optimal state?
Let's start by talking about the prostate gland. The prostate surrounds the tube that carries urine from the bladder to the outside of the body. Its main function is the production of part of the seminal flow, the liquid that contains the sperm.
The prostate of a healthy young man is about the size of a walnut and weighs about 20 grams. However, over time it slowly increases in size and over the years there is a greater chance of having prostate problems.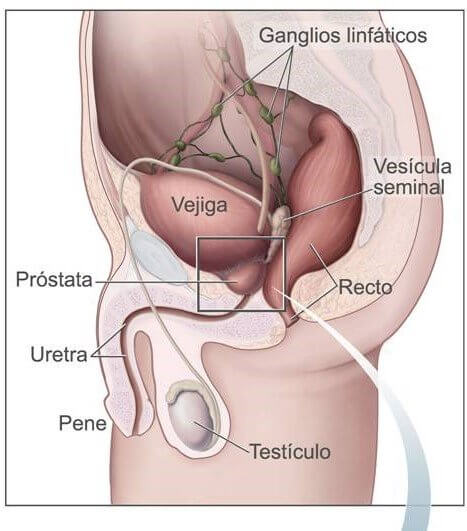 Of course, prostate cancer cannot be prevented, although an early diagnosis can be made. For this reason, it is very important to go to the urologist in case of any anomaly.
And it is that, for decades talking about prostate problems was a taboo subject. Now, prevention has increased and campaigns have increased to encourage men to go to the urologist and diagnose the problem properly. In addition to cancer (the most common tumor in Western men and the second leading cause of death), these are the main prostate problems:
Prostatitis: is inflammation of the prostate gland, usually caused by bacteria. On the other hand, there is chronic prostatitis characterized by localized pain in the perineum, suprapubic area and external genitalia. It can cause problems with urination and ejaculation.
Prostate enlargement: its name is Benign Prostatic Hyperplasia (BPH). It is a common problem in adult men that causes dribbling after urination or the need to urinate frequently, especially at night.
Prostate massage and how it can influence our health
Prostate massage describes the stimulation of the male prostate gland and can be done for both medical and sexual purposes. In Aphrodite's smile, as always, in our quest to enjoy healthy and healthy sex, we have for some time now introduced a wide range of prostate massagers, geared towards your sexual facet: extremely intense pleasure and the possibility of experiencing multiple non-ejaculatory orgasms.
But can this massage also benefit health? Beyond the pleasure and self-knowledge of those who use it? We have collected this information from the website of Aneros about its possible benefits, taking into account that it has been a very little explored field and, there is still much to know!
In this way, although it is true that there is still not much research on the positive effects of prostate massage, are many men have reported benefits and many doctors believe that health can be improved. These are the points that stand out:
Let's start from the fact that massaging any part of the body increases blood flow, bringing oxygen to the cells. In prostate massage, when arousal also occurs, even more blood flow is generated.
The prostate is made up of millions of microscopic fluid-producing glands and is susceptible to harboring bacteria. The fluid can even form stones in the prostate, similar to kidney stones. That's why regular massage can help keep bacteria at bay.
Some patients with BPH have reported that their symptoms have improved with regular prostate massage.
Bacteria growing in the prostate can form a protective layer, which can be disturbed by prostate massage and thus weaken the bacteria's protection. In prostatitis patients who are taking antibiotics, they indicate from the page, this kind of film can be eliminated, something that can increase the effectiveness of the medication, since it makes it easier for it to reach the infection.
As a last point, we remind you of the importance of self-knowledge of our anatomy, especially in a point as important and conflictive with age as the prostate. In this way, if you know the sensations of the prostate well, you are more likely to detect a possible problem. If so, we always insist on the need to go to the urologist so that he can help you with the precise treatment and rule out possible major problems.
At La Sonrisa de Afrodita we are clear that sex and health go hand in hand, so encourage yourself to take care of yourself and enjoy your body and your sexuality. Do you have any questions or something to contribute? Contact us, we will be happy to assist you!
We would like to thank the writer of this short article for this incredible material

How can prostate massage help prostate problems? – Aphrodite's Smile


You can find our social media pages here and other pages related to them here.https://catherinecoaches.com/related-pages/